welcome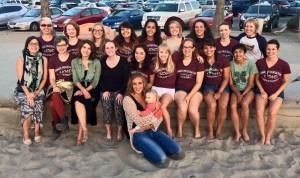 Welcome to the homepage for the Summer Program for Women in Philosophy (SPWP) at UC San Diego!  SPWP is a two-week program for undergraduate women in philosophy hosted by the UC San Diego Philosophy Department, featuring two philosophy seminar courses taught by visiting faculty, along with a variety of workshops taught by visiting and UC San Diego faculty and graduate students, all geared towards providing an engaging philosophical learning experience and helpful preparation for applying to and succeeding at graduate school in philosophy and beyond.
We are excited to announce that the 3rd annual SPWP will be held from June 20 to July 1, 2016,* featuring Connie Rosati (Arizona) and Sondra Bacharach (Victoria-Wellington)! The application form is now posted! All application materials are due by March 1, 2016.
*Participants will arrive June 19 and depart July 2
Download our Flyer here!